Summer Trousers
Summer Trousers
Even though we all dream of long summer days when we can skip around in our lightest skirts, dresses and shorts, the reality is that often the weather is simply too cool or too unpredictable to get away with that here in the UK. However, all is not lost though, since we can simple transition to a pair of summer trousers which are perfect for when you need a bit more coverage.
A nice pair of summer trousers don't have to be heavy or constricting either – in fact they should be airy and light and let you feel comfortable even on those warmer days. Luckily the high-street seems to understand our needs and have a great selection of fantastic summer trousers in a range of designs and fabrics to choose from that will great when you are out and about this summer. So for the ultimate in summer chic you can check out these gorgeous trousers right here.
For a classic summer look that has elements of British boating events in mind then you can't beat a pair of navy blue chinos with a pair of white pump trainers like in the picture, or with the oh-so traditional boat shoes. Chinos are a really flattering shape, and are more forgiving than everyone's favourite skinny jean since they come in at the waist, skim the hips and gently taper to suit a wide variety of body types. This pair from Matalan is the perfect chino to wear this summer; made from 98% cotton, they are breathable and soft even on the stickiest of days, and the 2% elastane content ensures that they are a little stretchy and will maintain their shape after multiple washes. For only £15 you can purchase this pair with the cute tan belt included, and know that you will look chic and elegant with a smart-casual look that isn't nearly so expensive as people will think!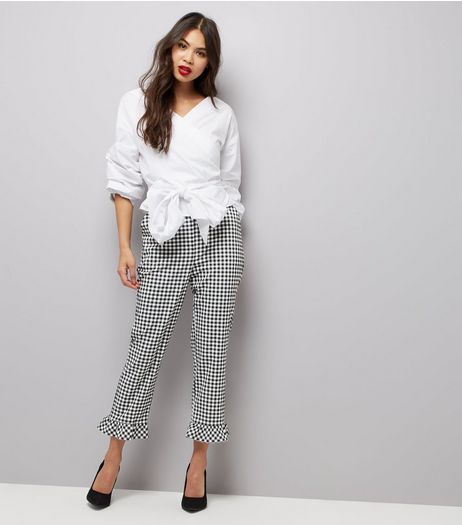 A trend that is set to be huge this spring and summer and that was all over the catwalks is gingham, and this 1960s inspired gingham trousers from New Look channel this trend to perfection. These slim-fitting cropped trousers with their ribbon tie waist and frilled hem will look great with flats and heels alike this summer, and thanks to the monochrome gingham, they will easily slot into your wardrobe. Priced at only £19.99.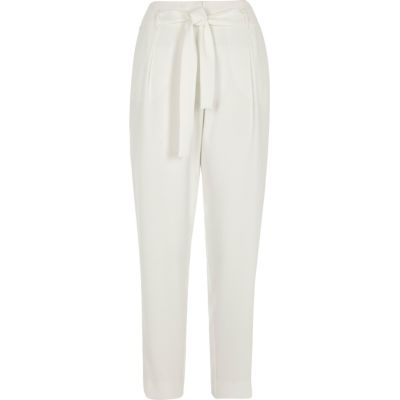 Finally for a pair of trousers that scream Riviera chic, this gorgeous tie-waist and tapered pair from River Island are fantastic. Available in a variety of colours from powder pink to cream, olive cream and more, this comfortable pair of trousers is the perfect way to smarten up your summer look whilst looking cool and collected. With these trousers you really can dress up or down as you prefer, but we love the look with a pair of ostentatious embellished sandals, and a silk vest top tucked in to show off the beautiful tie waist.